Name:
Hayato Okami
Spirit Title:
The Black Dragon
Age:
124
Gender:
Male
Physical Appearance: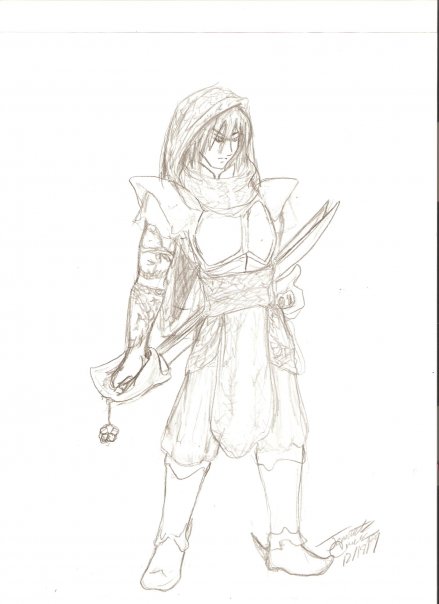 Hayato is fairly muscular but to the extent where he is swift as well as strong. Generally chesty with more upper body mass but strong legs which can run swiftly and deliver powerful kicks. He built his body up to the highest that he could achieve with it, but to an extent that it would not affect his movements or slow him down, therefore he achieved the body of the perfect warrior. Basically, he has the perfect blend of mass and tonnage to create the maximum amount of flexibility and strength needed in battle. Then, he built his muscle's tonnage to have a huge amount of endurance so he can last longer in battle when needed.
Hayato has an incredible amount of tonnage and a tan skin tone, standing at 6'1" feet and weighing 180 lbs of muscle. Hayato has short black hair and blood red eyes with a clean cut face. Hayato wears durable battle armor which is fire resistant. The hood he wears goes down his back and around his waist as a sash, and is made from red dragon scales which was converted into chainmail. This attire is the usual armor which Pyrokinetic soldiers wears before going into battle although there is a white lotus symbol on the back of the armor under his hood, which is only revealed while the hood is tied around his waist like a sash. Also, on the back of his heels are curved blades which are sharp enough to even cut through stone.
Sub-Race:
Dark
Personality:
Hayato is proud, cunning, cruel, and extremely aggressive. The lives of others hold absolutely no value to him, and he shows no remorse for his actions. As a pragmatist, he will strike without a moment's thought, warning, or hesitation. This makes him a skilled and extremely aggressive opponent, showing mastery in hand-to-hand combat and swordsmanship. He is swift and agile, able to perform extremely complicated acrobatic feats. The swift warrior is also a difficult opponent to fight in close combat, as he can quickly counterattack if struck multiple times, making him very dangerous. He is also shown to be an uncaring, cold, and ruthless individual, having not the slightest sympathy for anyone.
Hayato studied in the ancient sword art of the White Lotus, which enables him to exercise superhuman speed and reflexes, study and predict his opponent's movements in battle, as well as perform many powerful sword techniques intended to be lethal and able to even deflect bullets. After finding spiritual enlightenment, money holds absolutely no value to him due to the fact that he is powerful enough to take what he wants
Catch Phrase:
Live each day like your last
Nation:
Vince Terram
Affiliation:
Syndicate
Level:
4
History:
Hayato had awaken in the middle of a dark forest, his memory an empty blur. It was as if he had forgotten his entire life or who he was, the only thing he could remember was his name. Suddenly a man approached him with a sword to his side "You are safe now, I fought off those surrounding you while you were unconcious. Come with me..." the stranger said to him and Hayato did as he was instructed. Hayato was led to a large stairway which went up to a large domain which was the man's house. Hayato soon learned that this man's name was Ryu, and his new master. Soon Hayato discovered that he was able to perform Pyrokinetic abilities, however he used blue fire rather than the average ones.
Hayato was trained for the next ten years in the ancient sword style that is said to pit one against many. It is a sword art that is known as the White Lotus style, passed down from master to apprentice for many generations. The one drawback to the style on a whole is that it is a physically demanding style, only a person of peak athletic ability is able to maintain it. Hayato trained every single day in order to perfectly hone his abilities to the maximum capacity that he could obtain. Hayato was even trained from a day to day basis in the art of fighting with a blindfold on, so in the slight chance that he was ever blinded in battle he would be able to have an acute sense of hearing and be able to ascertain an opponent's position when temporarily blinded and subsequently disarm him, kill the opponent, and then catch a sheath perfectly on his sword through sound alone.
As the years passed Hayato was not guided every step of the way by his new Master. Instead, he was made to find his own way, Ryu offering scant advice and instruction only when Hayato found himself lost. During their many sparring sessions, which involved swords and fire use, no encouragement was offered by the self proclaimed master. Hayato had created his own sword which had two blades in the form of a katana but could be split into two separate swords. Ryu trained with him every day to insure that Hayato would become a master at dual-wield fighting as well as common swordsmanship. Hayato's Master would never debate or enter into deep discussion with the boy. During the brutal training regimen, Hayato was pushed to his limits, the physical tests he was subjected to bordered on torture, and many times, until one day he fell upon the brink of death. Hayato also trained on his own with targeting animals with his own personal shurikens which Ryu showed him how to create. Hayato wore a blindfold on to insure perfect aim from his training with sound alone. Hayato trained for hours in the forest shooting each tree he passed by. This made Hayato's shooting skill better than that of an average bounty hunter.
One day Ryu was recruited into the Syndicate and took Hayato with him, together they worked with an army of Spirits to take over Russia. Hayato now wanders Earth on his own and is currently located in Vince Terram as an assassin for hire.
RP Sample:
Ability:
Dark Pyrokinesis
Description:
This is the pyrokinetic ability to create and control Intense Blue Flames. These blue flames are more efficient than the standard yellow and orange flames produced by lesser forms of Pyrokinesis, channeling more energy into the attack and likely traveling further without dissipating. This blue fire also seems to possess more physical force and produces a combustive effect more intense than that of normal fire, likely due to the fact that it superheats the air around it as it strikes.
Level 1:
This is simple manipulation of the blue flames used by the weakest of spirits. A basic ability; jabs and punches produce miniature fireballs and missiles of flame. These can be charged up to create larger slower bursts, or swift repetitive strikes to keep opponents off balance. Users can also shoot continuous streams of fire from their fingertips, fists, palms, or legs. These streams can be widened to create flame-thrower like techniques or this continuous stream of flame can be used as a whip.
Level 2:
This is a slightly more advanced form of fire manipulation, users can now charge their attacks before releasing them, allowing them to create enormous blasts of fire. At this level a user can diffuse and extinguish an oncoming fire blast from another Pyrokinetic with a swift kick, jab, or defensive movements, allowing them to stop attacks. This can also allow the user to control the size and intensity of any nearby flames and can draw them in and manipulate them at will.
Level 3:
This is where more advanced techniques are first began to be learned and are fueled by anger and rage. Rather than only using limbs to produce a flame, the user can blast fire out of his or her mouth, mixing air from the lungs with the flame creating a wider, hotter blast. With its wide, encompassing range, the technique allows for staving off multiple opponents and is also shown to be able to instantaneously warm the body even under extremely cold temperatures.
Level 4:
This is the level where more practical useage can be performed. Spinning kicks or sweeping arm movements create rings and arcs to slice larger, more widely spaced, or evasive targets. A more advanced version of a blazing arc is where the user can narrow their fire arcs to create thin blades of fire that they can launch at their opponents which can easily cut through a solid stone. They also learn one of the few defensive abilities, either a situated explosion or controlled inferno, this wall concentrated flames acts as a barrier to incoming attacks. It may be a more powerful version of a Fire Shield. It not only protects against attacks, but when used right, can be used to stealthily escape from foes.
Level 5:
This is the level where techniques become more lethal by creating a whirling disk of flame, used at long range. It is highly advanced and extremely dangerous to those it comes in contact with as it can hit multiple targets before dispersing. This level allows the user to conjure huge amounts of flame to propel themselves at high speeds on the ground or through the air in a form of levitation. An advanced form of Heat Control; the user superheats the air around him, causing a rise in air pressure in small, enclosed areas with explosive results and able to burst out of a small area or a dome.
Level 6:
This is the level where the user is able to produce up to five simultaneous fire-whips (one from each limb, one from the mouth). Each fire-whip is also very wide and they move in a similar fashion to squid or octopus tentacles. they have enough destructive power to demolish large rock formations. The mastery of heat control makes the user able to redirect the course of lightning strikes by absorbing it through one arm, guiding it through his stomach, and out the other arm back at the opponent.
Level 7:
At this level the users of this technique become a master of Combustion. This technique is extremely effective and very destructive, capable of use at close and long-range; it can completely disintegrate hill-sized boulders and instantaneously evaporate large bodies of water with ease. This is probably due to the energy being entirely focused into creating the explosion, without wasting energy maintaining a long-range jet of flame.
Level 8:
At this level the users of this technique are able to produce Magma by producing such extreme heat on the ground that it causes molten rock. They can even cause dormant volcanoes to erupt at will. This ability contrasts sharply with other types of Pyrokinesis, as lava and magma are superheated physical substances, rather than a chemical reaction. These techniques are difficult as this art would require fluid movements and a massive mental effort.
Access:
Dark Spirits only
Name: Battōjutsu Soryūsen
Rank: 1
Element: N/A
-Sub-Element: N/A
Rank Requirement: Level 3
Description: Stance with right foot placed in front of left, pressing the blade of the sheathed sword against the curve of the sheath, which increases draw speed. The drawing of the blade is the same motion used for the attack. It is an all-or-nothing attack where missing the target results in the user being completely vulnerable. However, with a follow-up attack utilizing the sheath as its secondary strike. This second swing covers the period of vulnerability left after a normal battōjutsu. The users speed of attack is increased 5% higher than their average speed.
Name: Battōjutsu Hiryūsen
Rank: 1
Element: N/A
-Sub-Element: N/A
Rank Requirement: Level 2
Description: This projectile sword-technique uses centrifugal force and the user's hand (more precisely, the thumb) to shoot the sword from inside the sheath, allowing them to strike at adversaries outside the sword's reach. The culmination of centrifugal force and hand strength makes the accuracy of the strike all the more efficient, enabling the swordsman to strike regions on the adversary such as the middle of the forehead. Some have even shown to be able to throw their sword with pin-point accuracy, as evidenced by being able to stab through an opponent, completely missing every vital organ and muscle in the human body.
Name: Battōjutsu Soryūsen ~ Ikazuchi
Rank: 2
Element: N/A
-Sub-Element: N/A
Rank Requirement: Level 4
Description: "Ikazuchi" is the reverse variant of Soryūsen, wherein the blade strike follows that of the sheath. The swordsman feints battōjutsu to distract from the sheath strike and follows-up with the second blade strike. It is a highly-advanced maneuver, as the sheath strike locks the adversary and their weapon, leaving them completely vulnerable to the swordsman's blade. Speed of the attack is 10% higher than the average speed of the user.
Name: Sonic Sheath
Rank: 2
Element: N/A
-Sub-Element: N/A
Rank Requirement: Level 4
Description: This is a technique where the user must be at close range to their opponent. When the sword hilt connects with the sheath, the high-speed sheathing produces a sonic boom that temporarily stuns an opponent's auditory nerve, impairing their hearing and equilibrium for two posts.
Name: Fire Daggers
Rank: 1
Element: Fire
-Sub-Element: N/A
Rank Requirement: Level 2
Description: Creating blowtorch-like jets from the fist or fingertips to use as close range sword-like attacks. These lack the ability to actually block physical objects though; however, they are extremely effective as an offensive attack. However, Hayato has mastered this technique to the point where he is able to expand the length of his Tektonium hidden blades on his forearm and heel blades by six inches at any instant. Thus burning an opponent as well as slashing them.
Name: Fire Bullets
Rank: 2
Element: Fire
-Sub-Element: N/A
Rank Requirement: Level 4
Description: Hayato's Tektonium double-bladed katana produces sparks whenever it is struck against any solid surface, but most effective when struck against rocks or metal. When the sparks arise upward Hayato can use the surrounding oxygen to expand the size of the sparks to produce balls of fire from each individual spark and fire them at high speed towards an opponent once produced. This is a high speed Fire technique which can be fired with his arms, legs or even his head.
Weapon Template:
Quote :

Name: Double Bladed Katana
Type: Sword
-Sub_Type: Hybrid
Rank: 2
Looks:
Material: Tektonium is a light indestructible metal alloy; usually used by Pyrokinetic users to light their blades on fire. These blades are made without running the risk of the metal melting once forged into a weapon seeing as it is basically made of Fire Resistant material which is also very durable.
Description: This is a Katana with two blades which can be split into two separate swords or shifted into a double-edged sword with swords coming from each side of the hilt shown in the character description. To show his loyalty to the Order of the White Lotus, there is a small chain which contains a white lotus tile connected to it. The sheath itself is also made from Tektonium and able to produce sparks simply by drawing the sword and scraping the edge of the blade against the sheath.
Abilities: Hayato can channel flame into this Tektonium blade with Pyrokinesis, which will increase its sharpness greatly, as well as increasing its cutting range in order to both burn and slash an opponent simultaneously. This sword has a laserpoint-sharpened edge which can easily cut through stone without any difficulty alone. The blade has become soaked in the flesh and body fat of the victims he had killed over the years, as a result he is able to execute fire-oriented techniques using the oils as fuel. This weapon is also light and versatile, meaning it can be used for both a quick counter and in blocking/deflecting oncoming projectiles.

Name: Hidden Death
Type: Metal Arm Braces/Hidden Blades
-Sub_Type: Hybrid
Rank: 2
Looks:
Material: Tektonium
Description: These are a pair of arm braces with gloves with one layer of pitch-black Tektonium with another layer of rubber-based material connected to the inside of them, preventing electricty from conducting and shocking the user. They take the shape of the user's hand and appear to be leather, but on feel and effectiveness, are pure Tektonium on the outer-layer. However, hidden under his arm braces are 13 inch hidden blades.
Abilities: These hidden blades can be brought out at any instant with swift speed and are located above the knuckle. The arm braces and gloves can be used to block and deflect any oncoming weapons. Furthermore, the mechanism does not require a wrist "flick" to extend the blade, thus the user could retract the blade without any wrist or hand movement. The hidden blades also gives the user more freedom in movement than any other weapon. For example, Hayato could easily strafe a 180° arc while in combat, which was barely possible (except from very close range) with the sword or dagger.

Name: Exploding Shuriken
Type: Shuriken
-Sub_Type: Offensive
Rank: 2
Looks:
Material: Explosive Steel
Description: The blades of these shuriken are curved in order to slash or stick into an opponent depending how thrown. The explosive steel material is black like Hayato's armor, therefore are hidden at all times within his fire resistant material in order to ensure no unwanted detonation.
Abilities: These shurikens explode on contact with any solid object, momentum mixed with the pressure of contact with a solid material will cause them to explode instantaniously. The size of the explosion is considerably large enough to blow an opponent to pieces with a direct hit.
Item Template:
Quote :


Name: [What is the name of your item callled?]
Appearance: [This is optional.]
Type: [This is Medicine, Supplement, Enhancer, or Other.]
Natural Abilities: [What does your Item do? what are the effects? how long does it last?]